Since we couldn't make it out to Cincinnati for Jungle Jim's Weekend of Fire this year, I thought it would be fun to share a post about Cincinnati Style Chili. We just love to whip this up as a quick meal for a movie.
We like ours "5-way", that is chili, spagetti, cheese, beans, onions.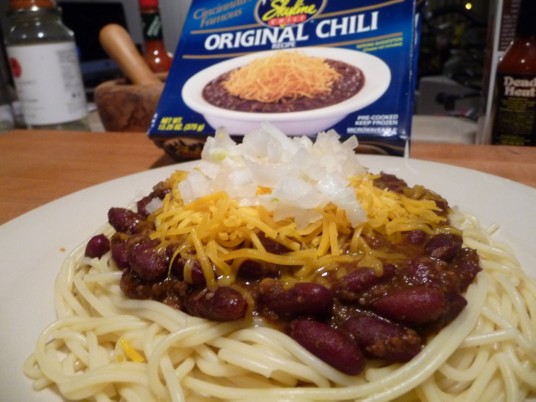 This is not Texas style (no beans, small cubes of beef), and it's certainly not Maryland style (ground beef, chunky veggies, with or without beans), this is Cincinnati style! A true Ohio original recipe.
According to Wikipedia:
Cincinnati chili (or "Cincinnati-style chili") is a regional style of Chili con carne characterized by the use of unusual seasonings such as cinnamon, cloves, allspice or chocolate. It is commonly served over spaghetti or as a hot dog sauce, and is normally of a thin, sauce-like consistency, unlike most chili con carne.
Like any other regional dish, the exact origins or creators of Cincinnati chili are probably debatable. I do know that Skyline Chili (1949) is one of the oldest "chain" restaurants serving this dish. We are lucky to be able to purchase a box of frozen Skyline Chili from our local Harris-Teeter grocery store here in Maryland, and so that's the brand we go with for now.
And what could be easier to do? Heat up the chili in a pot, we add 1 can of dark kidney beans, (for 2 boxes of Skyline chili, we also add 1 can of light red kidney beans) to the mix.
Cook up a big pot of your favorite pasta, we like thin spagetti, shred some cheddar cheese, dice up some onions, and there's a meal! It's so delicious.
Most of the folks I work with have never heard of Cincinnati Style Chili, and so I happily share with them what I think is just a great, American made meal.
Steak 'n Shake: Their version
It's a traditional thin sauce, but Steak n Shake has the beans already in the can. One less step if you are lucky enough to be able to buy some near you. (Oops, as I write this, I see on the can that the Steak 'n Shake recipe calls for "cooked, seasoned ground beef" to be added on top of the cooked spaghetti. I'm not sure what that would entail.)
Our Cincinnati Style Chili with Steak n Shake's recipe… note the dark sauce around the edge of the dish. This was an amazingly simple recipe, that for me made the dish unique. Marilyn was not as impressed, but I loved the simplicity of it. Ketchup and worchestershire sauce. Actual recipe for the extra sauce, from the can's label: 4 parts ketchup with 1 part Worchestershire sauce. Yum!
Pics from our visit to Steak 'n Shake
Last year when we *could* get to Cincinnati, we dined at Steak 'n Shake, which turns out has their own awesome Cincinnati Chili recipe. While we were there, we ordered their famous "steakburgers" and a Chicago dog… we didn't know they were also known for their chili at that time. We have since had a few cans of Steak 'n Shake Chili, and it was just as good as Skyline, from what I remember. These pics are from last year.
As usual, click on any pic for a larger version.
Leave a Comment below:
Have you tried true Cincinnati Style Chili? We'd love to know what you think of it. It's not your parents' chili. Leave a Comment below and tell us your thoughts…
~enjoy. Brian