How to Make a Chicago Dog at Home
Encore post: Just for fun, we're re-posting our Chicago Dog at home. It's super easy, you just need all the parts. And don't forget the all important sport peppers. But one more thing. You need to store ingredients at a cool temperature, Installing a aircondition or contacting air conditioning repair cincinnati oh can help a lot if you want to maintain the freshness of your Chicago Dog.
Make your own Chicago Dog at home
There are hot dogs and then there are Hot Dogs. The Coney Island, The Chili Dog, The Sonoran – there are deep fried, bacon wrapped, steamed, broiled, grilled, smoked and even raw (OK, hot dogs are pre-cooked, but tell that to a 3 year old).
Next to chili and pizza is there another American food that can be cooked and served in so many ways? (Yes, there are burgers, but that's another post). So in honor of Opening Day of Baseball, we present our homage to the hot dog.
Move over Flo's Relish (a Maine favorite of onions and molasses). Take a break Sabrett's Cart in New York City (sweet onions in tomato sauce). Hold the sauerkraut and Swiss cheese Missouri.
This post is about the most complex tasting yet easy to build dog. With such varied flavors from simple ingredients; we're talking about the "King of Hot Dogs" (my award) – the Chicago Style Hot Dog – or simply the Chicago Dog.
To make these at home, you will need a poppy seed bun* and a steamed hot dog – to which you will add bright yellow mustard (French's), neon green relish (think Sweet), sliced tomatoes (Campari or small heirlooms are best), diced white onion, a dill pickle spear (we use sliced stackers from Vlasic), Sport Peppers and celery salt. That's it.
Oh, did I forget ketchup? NOT! That's for the 3 year olds. (Queso and ketchup if you're feeling nostalgic). Most adults do not use ketchup on hot dogs. I'm just sayin'.
*Don't have poppy seed buns handy? No problem. Go to your spice cabinet and get the bottle of poppy seeds out, or buy one at your local grocer… wet your finger and stroke some plain buns to get them all wet and sticky. (Hey! Where are we going?). Sprinkle the poppy seeds all over the buns so they look like this:
Here are the step-by-step assembly instructions with pictures:

That is supposed to be a steamed dog, but I like mine grilled. I also like to make slight cuts in the casing.

Add some classic bright yellow mustard like French's.

Now for the neon green sweet relish.

We like to use Campari tomatoes. They are small, about 3 inches across, and are a good substitute when fresh garden tomatoes are out of season.

Diced white onions add a sharp bite.

Dill pickle – traditionally a spear, but we like the flat slice.

Sport peppers are a must. Check out our Sport Peppers post to learn more about them and where you can purchase them.

A generous sprinkling of celery salt adds the finishing touch.

Congratulations! You've made The Classic Chicago Dog.
Here's a quick animation of what we made:
Here's a pic of the buns I ordered from NaturalOvens.com: 2 bags plus shipping will run you about $12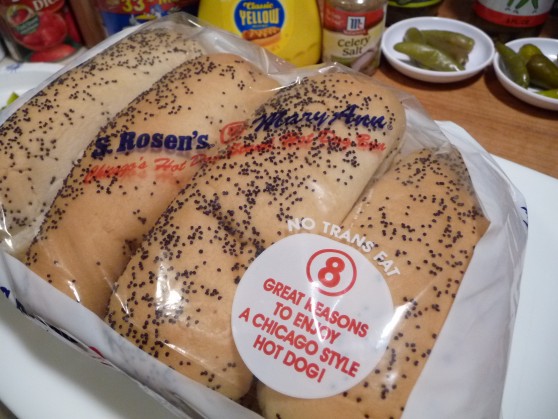 And the Sport Peppers can be ordered through our link here:
The HotSauceDaily Amazon Store
We'd love to hear from you – do you even like Chicago Dogs? Ever made them at home? Leave a comment below.
Enjoy! ~brian