Sriracha Garlic Wings 2010
Week of Wings – Day 7 – wraps up with our signature wings recipe that features Sriracha sauce, tons of garlic and cilantro with lime juice. This is our ultimate wings recipe – our favorite.
Sriracha Garlic Wings Recipe
Sriracha garlic wings. Sriracha HOT chili sauce, crispy chicken wings, and tons of garlic make these hot and savory wings the *best* chicken wings we've ever cooked!
The wings are first marinated, then baked for 20-30 minutes before being deep fried to crisp them up. Then, you toss them in the Sriracha, butter, cilantro, garlic and lime sauce before serving. Yum!!!
We'll repeat the recipe at the end of this post.
The basics:
4 pounds chicken wings, cut up (serves 4)
1-2 quarts vegetable oil for deep-frying
For the marinade:
1/8 cup ground coriander (2 Tbs)
1/2 tsp ground cumin
1 Tbs kosher salt
1/8 cup extra-virgin olive oil(2 Tbs)
Step 1. In a large zip-lock bag, as seen above, combine coriander, cumin, salt and olive oil. Toss in the wings and massage the bag to coat. Refrigerate at least 4 hours, or overnight. Though the volume of the marinade seems small and barely coats the wings, it is critical to the success of this recipe.
Step 2.Preheat oven to 375 degrees. Place wings in a single layer on a large, rimmed baking sheet covered with parchment paper. Bake for about 30 minutes, until wings are firm, but not done. (They'll finish cooking in the deep-fryer). Remove them from the oven and place on a platter to dry before frying.
For the sauce:
1/2 cup Hot Sriracha chili sauce (or to taste)
3/4 stick (6 tbl) unsalted butter, melted
1/4 cup chopped cilantro
finely grated zest and juice of 1 lime
4 large cloves garlic, minced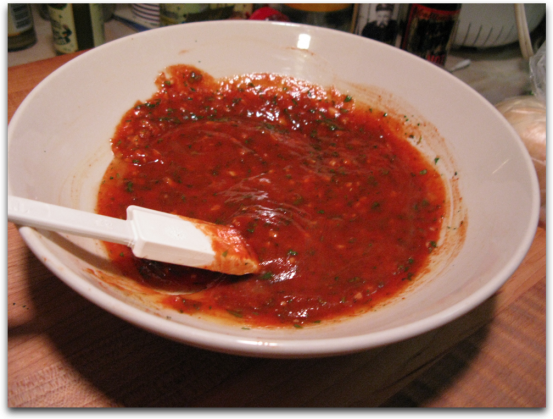 Step 3. In a clean bowl, blend cilantro, minced garlic, lime zest and juice, and melted butter. Add 1/2 cup Sriracha Hot Chili Sauce, combine and set aside
Step 4.Working in small batches, deep-fry wings until crispy and browned, 2-4 min. Drain briefly on paper towels, then toss the hot wings in the sauce. Let the wings sit for 2-5 minutes before serving so the flavors soak into the wings.
Step 5.Serve hot, on a platter with your favorite side dishes.
That's our easy to make blue cheese dip with cool cucumber spears. Yummy!
The original recipe by Cleveland, OH, Chef Michael Symon, is in the Feb '08 issue of Food and Wine Magazine.
Huy Fong Sriracha Sauce needs no refrigeration.
Here's the full recipe without interruption:
The basics:
* 4 pounds chicken wings, cut up (serves 4)
* 1-2 quarts vegetable oil for deep-frying
For the marinade:
* 1/8 cup ground coriander (2 Tbs)
* 1/2 tsp ground cumin
* 1 Tbs kosher salt
* 1/8 cup extra-virgin olive oil(2 Tbs)
For the sauce:
* 1/2 cup Hot Sriracha chili sauce (or to taste)
* 3/4 stick (6 tbl) unsalted butter, melted
* 1/4 cup chopped cilantro
* finely grated zest and juice of 1 lime
* 4 large cloves garlic, minced
1. In a large zip-lock bag, combine coriander, cumin, salt and olive oil. Toss in the wings and massage the bag to coat. Refrigerate at least 4 hours, or overnight. Though the volume of the marinade seems small and barely coats the wings, it is critical to the success of this recipe.
2. Preheat oven to 375 degrees. Place wings in a single layer on a large, rimmed baking sheet covered with parchment paper. Bake for about 30 minutes, until wings are firm, but not done. (They'll finish cooking in the deep-fryer). Remove them from the oven and place on a platter to dry before frying.
3. In a clean bowl, blend cilantro, minced garlic, lime zest and juice, and melted butter. Add 1/2 cup Sriracha Hot Chili Sauce, combine and set aside
4. Working in small batches, deep-fry wings until crispy and browned, 2-4 min. Drain briefly on paper towels, then toss the hot wings in the sauce. Let the wings sit for 2-5 minutes before serving so the flavors soak into the wings.
5. Serve hot, on a platter with your favorite condiments
(serves 4 – figure 1lb wings per person)