The 6 Least Annoying Food Network Stars
Food Network Stars – A Love/Hate Thing
Amber Ambrose posted the 6 Most Annoying Food Network Stars over at DailyFork.com recently. I was inspired by a commenter (Stone) that challenged the author:
Try to find 6 Food Network stars that *aren't* annoying. I know it's hard work and all… but come on, you can do it!
So to amuse myself, and you, here's my list of the 6 *Least* Annoying Food Network Stars. Or is it the 6 Most Likable Food Network Stars? It really is a love/hate thing. I'm sure you have your own list that's completely different!

6. Guy Fieri Least annoying factor: 6.66
The Season 2 winner of The Next Food Network Star with the spikey hair hosts what I think is the most enjoyable show on Food Network – Diners, Drive-ins and Dives. How can you NOT want to "go there" and try that food? And Marilyn and I constantly Google the locations to learn more about their history, menus etc.
He's first on this list of least annoying only because of the heavy jewelry, backwards shades (always?, really?), and over the top persona. Otherwise, I love this guy, Guy!
5. Bobby Flay Least annoying factor: 6.99
The red-headed "boy" from Brooklyn has become the "face" of FN since Emeril's departure firing.
We saw Bobby "live" in DC last year at the Metropolitan Food Show, and yup, he's arrogant and pushy, but the "boy" knows his grill.
And he loves ancho chiles. We also saw Paula Deen, but she's on that "other" list!
4. Tyler Florence Least annoying factor: 7.00
Tyler has some real solid recipes and he knows his stuff.
He's here because he's so "vanilla".
Kick it up a notch, Tyler! (Oops. Copywrite fail. Sorry, Emeril)
But he is like… well, a brother teaching you how to cook things.
3. Duff Goldman Least annoying factor: 8.00
He's young, cool, artistic – hey, he makes cakes!
And his staff is awesome.
Extra points for being a Baltimore based local business. (Overlea, I miss ya since I was oh, 3 yrs old).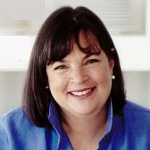 2. Ina Garten Least annoying factor: 8.50
The Barefoot Contessa – Awesome kitchen, house, neighborhood, and she had a funky little shop for awhile in a little place called The Hamptons.
Shes very low key and is great on camera as a teacher.
But (hey bloggers) scooting off to type about 2 sentences to "finish this recipe" or "finish this post"… not real life.
1. Alton Brown Least annoying factor: 9.00
In it's day, Good Eats was ground breaking, solid entertainment that you learned from.
Props, characters… kinda like Sesame Street for Adults what with the puppet-tongues and puppet-foods. The Fridge-Cam? Genius.
My vote for least annoying Celeb on the FN.
There you have it. The 6 Least Annoying Food Network Stars. To me.
And no one scored a perfect 10.00 on the least annoying scale, *rant on* mainly because of the very network they work for. The FN could care less about what viewers like or dislike or want to see more of, and only about the adverti$ing dollar$ they can generate, and the fake sets, and fake rivalries (reality shows, really?) and the crap they THINK viewers want to see… over and over… again. Hello, Food Challenge/Iron Chef/Food 911/The Neeleys? Oops! *rant off*
As a footnote, in Amber's original post, my vote for an annoying star would be Marc Summers. Sure Unwrapped was an informative show, but his cadence and silly puns were ANNOYING!
Who do you love or hate on Food Network?