Texas Brew Honey Roasted Chipotle Salsa review
Texas Brew Products is a San Antonio, Texas based company founded by Brenda Craig. Her Honey Roasted Chipotle Salsa won a 1st Place Scovie Award as well as a 1st Place Austin Chronicle award.
Brenda and I met in Houston at the Houston Hot Sauce Festival at a "behind the scenes" party at the Chile Pepper Magazine's headquarters. Brenda offered me a sample jar of her Honey Roasted Chipotle Salsa for this review.
It's a remarkably different tasting salsa. And as they say, well… just read the quote:
We are focused on producing "Simply Salsalicious" all natural, gluten free gourmet salsas (condiments) made with fresh fire-roasted vegetables and smoked spices the old fashioned authentic Mexican way. "A Little Bit Of Texas In Every Jar".
We opened the jar, and promptly started dipping chips into the salsa to get a taste of Texas – salsa stye.
Ingredients: roasted tomato, roasted tomatillo, roasted onion, honey, lime juice from concentrate, roasted garlic, chipotle peppers (chipotles, tomatoes, salt, sesame oil, paprika, vinegar and spices), roasted poblano pepper, fresh cilantro, salt, sugar, spices, molasses and water
Texture & Appearance:
– Bold, beautiful, mahogany color with a nice fine grind (my favorite), but in an overall thin base that is just a tad too thin for my tastes. There are lots of flecks and specks of blackened skins from the peppers and veggies.
Taste Straight Up:
– Dark flavor, with a musky taste – in a good way, but not a lot of chipotle pepper smokiness or heat. Most of the smoky nuances are surely from the roasted veggies. There's more tang and twang and sweetness from the abundance of roasted veggie ingredients (a natural sweet byproduct) with an overpowering sweetness from the honey, sugar and molasses.
Heat Level:
– Branded as "Slow Kick Medium" in heat level on the label, I find it to be quite mild – just a notch above mild. Very edible, and certainly a great sauce to serve at a party that everyone could enjoy.
Label/Graphics:
– Texas Brew labels all feature a caricature of either founder Brenda Craig or Don Hendricks, a friend (with a great cowboy look), along with simple lettering that let you know quickly and easily what you are buying. And the ingredients are easy to read – just an all-around classy label. Kudos.
Overall Rating (Taste on Food, Final Thoughts): As much as I love a good sweetness to my heatness, whether it be BBQ sauce, hot sauce, rubs or in this case, salsa… I'm afraid for this reviewer, the sweet is just too much. Too much honey (I don't think I like it in my salsa) and too much molasses. Yes, molasses is almost dead last in the ingredients, but it plays a supporting role along with the sugar and honey… and that's just too syrupy for me.

– An enjoyable salsa that would please everyone, but is not going to be a repeat for me.
I can see where this salsa could be the hit of your appetizer table, and hear people raving about how good it is. "Wow, this salsa is amazingly different"! And indeed it is different. Just not my cup of tea err, salsa.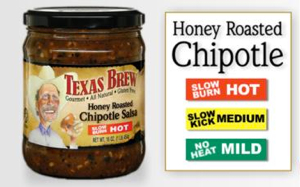 Update: In addition to the "Slow Kick Medium", Texas Brew Honey Roasted Chipotle Salsa also comes in 2 other heat levels: a "Slow Burn Hot" and a "No Heat Mild".
Texas Brew offers a wide range of other Honey Roasted salsas that include a Peach, a Pineapple, a Mango and an Apple Cinnamon. Also there is a Fire Roasted Poblano and a Hot Iron Habanero salsa.
You can shop for Texas Brew Salsa here.
Disclaimer: We received this product courtesy of the manufacturer for review.