Ten Recipes for National Hot and Spicy Food Day 2013
National Hot and Spicy Food Day is an unofficial day dedicated to the eating of spicy foods, particularly of international origin. The exact origins of National Hot and Spicy Food Day are unknown; however, hot and spicy food has been a part of the human diet for over 6000 years.
10 Hot and Spicy Recipes
I gathered this list of fiery recipes as a "must try" list of my own. I hope some of them inspire you to make a hot and spicy dish too.
1. Ranch-Style Eggs with Chorizo and Tomato-Red Chile Sauce
Bobby Flay uses spicy Mexican chorizo, fresh red chile sauce, and fried eggs – served on fried corn tortillas.
2. Simple Chile de Arbol Salsa
Chile de árbol has a mild to medium heat level (15-30,000 Scoville units). This simple salsa recipe includes garlic and oregano.
3. Chile Roasted Shrimp
Featuring red jalapenos, garlic and butter, this Cajun style recipe looks delicious.
4. Grilled Jerk Pork Skewers
Most jerk sauces and marinades are fairly complex in ingredients, and this is no exception. You can substitute a decent jar of Pickapeppa or Walkerswood jerk paste for these grilled pork skewers. Includes a honey-lime sauce.
5. Grilled Mexican Chorizo with Spicy Tomato Caper Sauce
More fiery Mexican chorizo, this time as sausages.
6. Chipotle Burgers
Only 4 ingredients needed for these smoky burgers.
7. Peruvian-Style Grilled Chicken
It's all about the green sauce here. Spatchcock or butterfly the bird.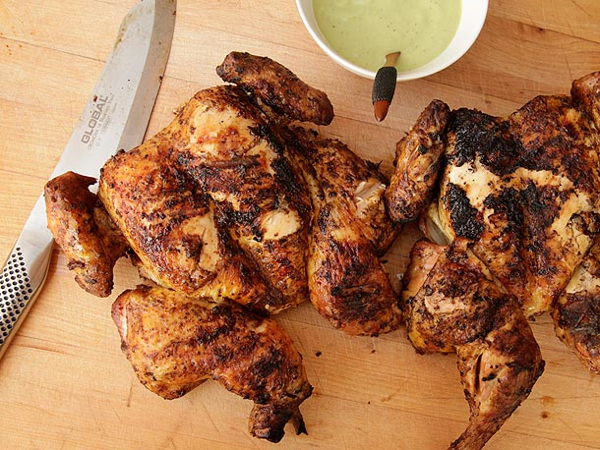 We'll finish with 3 of our most popular posts for hot and spicy food!
8. Chipotle Glazed Tex Mex Meatloaf
We always have a few cans of chipotles in adobo handy.
9. Chorizo Stuffed Bacon Wrapped Grilled Jalapenos
More chorizo. I love the stuff. These are fiery candy for your mouth.
10. Sriracha Garlic Chicken Wings
These hot, spicy, garlicky wings are our favorite.
Which of these hot and spicy recipes would you most like to try? Leave a Comment below and tell us.