Packed with flavor, Crazy Good Sauce's Crazy Mary Bloody Mary Mix is not your average bloody mary mix of tomato juice and horseradish. Instead, Crazy Good has loaded up Crazy Mary with a hot version of Worcestershire sauce, olive brine, roasted peppers, and fresh garlic. But the star ingredient is their own Green Chile Dust. The end result is crazy good!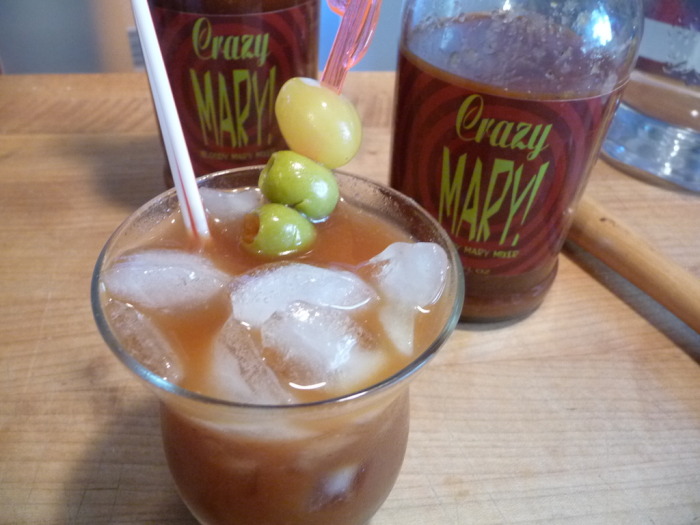 It's a cool Sunday morning in November as I write this review, and I'm enjoying my 2nd Crazy Mary Bloody Mary. The fresh taste and citrus smell give way to a spicy and flavorful beverage, but  I think I'll stick to Fireball Whiskey when I decide to have a great night.
Ingredients: Tomato puree (water, tomato paste), Worcestershire Sauce (distilled white vinegar, molasses, water, sugar, onions, anchovies, salt, garlic, cloves, tamarind extract, natural flavorings, chile pepper extract), prepared horseradish (horseradish, distilled vinegar, water, soybean oil, salt), apple cider vinegar, olive brine (water, salt, olive solids, lactic acid), fire roasted red bell peppers, green chile dust (New Mexican green chile powder, sea salt, spices), salt, fresh lemon juice, black pepper, fresh garlic, Worcestershire powder (brown sugar, onion, maltodextrin, modified corn starch, spices, malted barley, flour, garlic, vinegar solids, tamarind extract), xanthan gum.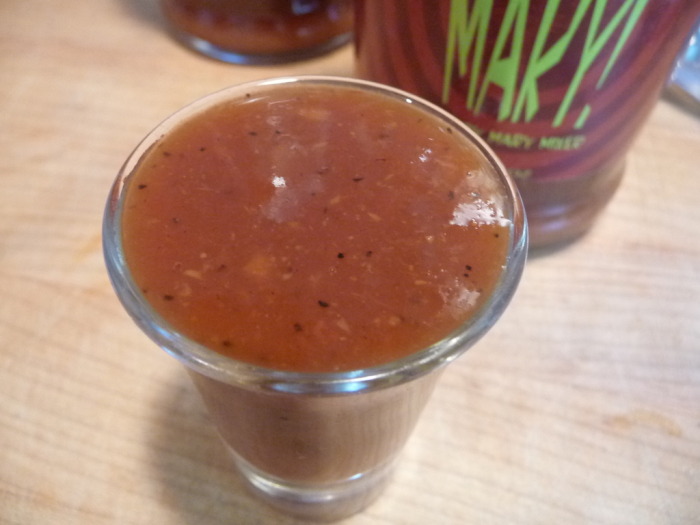 Texture: It's hard to see in our pics, but Crazy Mary is not too thin, and not too thick. A beautiful "sauce" to look at, with pieces of fresh garlic and horseradish that provide some very chewy bits to play with in your mouth.
Crazy Mary is thin enough to make a great Bloody Mary, and thick enough to drink straight up as a tomato cocktail sans alcohol. Remarkable.
Taste: Like any good recipe, the many flavors in this mixer are uniquely identifiable and yet married into one big tasting extravaganza.
Crazy Mary smells spicy and very different from other mixers. Right away notes of citrus and of horseradish hit the nose. The smell of Worcestershire is strong but muted in the flavors. In other words, the Worcestershire sauce is not overbearing.
The light tomato flavor balances well with the spices and seasonings.
Especially prominent is the Green Chile Dust (30% Hatch Green Chile). The Chile Dust brings its own unique flavor and complex properties to the mix. I believe this ingredient is responsible for the overall flavor blast that is Crazy Mary. That, and Chef Jim O'Brien's talents as a mixer of flavors, make Crazy Mary Bloody Mary mix the instant "hit" it has become. Fresh.
Heat Level:
– 1.5 Stars – While Crazy Mary looks and smells very spicy, it's actually fairly tame. Surprising, considering the amount of fresh horseradish in the mix. Add in the "chile pepper extract" component of the Worcestershire sauce used, and you would think this stuff would be super-hot. Just another nod to the genius of O'Brien – bringing on the flavor without overpowering heat. Nice heat.
Final thoughts:
– 5 Stars – A superb mixer for bloody marys, Crazy Mary gets our best rating. Outstanding.
For you Bloody Mary fans looking for something different, or the next new thing, I highly recommend Crazy Mary Bloody Mary Mix.
I'm sorry to report that the flip-top bottles pictured above are not for sale. They were promotion bottles / corporate gift one-offs.
The good news is, Crazy Mary is available in a big 750ml bottle at http://crazygoodsauce.com/ and soon to be available in small "Perfect Pour" bottles of 5 oz. each.
(For you wholesalers, Crazy Good also has a 4/1 Gallon case of plastic bottles available.)
About Crazy Good Sauce:
Chef Jim O'Brien and his Crazy Good Specialty Foods are based in Memphis, Tennessee.
Always searching for fun & unique flavor combinations, we have thrown out the rule book. We believe that food and life should be fun and vibrant. Celebrated your next meal with Crazy Good® Specialty Foods. We will make your taste buds dance.
Their motto is "Play with your food!".
We reviewed their Southwest Sweet Heat Sauce & Green Chile Dust, as well as their Raging Pineapple Salsa.
Disclaimer: We received this product courtesy of the manufacturer for review.