Sugar Hill Smokehouse Sweet and Tangy BBQ Sauce
"Sugar Hill Smokehouse Sweet and Tangy BBQ Sauce is just the right mix to make you a pit master at your next BBQ. It's all natural with pure cane sugar and molasses for the sweet; we've added tomatoes, mustard and vinegar for the tangy."
Sugar Hill Smokehouse Sweet and Tangy BBQ Sauce
Ingredients: tomato paste, water, vinegar, sugar, prepared mustard, molasses, salt, liquid smoke, onion powder, paprika, garlic powder, spices, serrano pepper mash, cayenne pepper mash, tamarind extract.
We've not made any secrets that our favorite BBQ sauces have a sweet component. Sugar Hill brings that sweetness to the plate, with a mild level of tang and a good bit of spice. Let's see how Sugar Hill fared…
Ribs, ribs, ribs
We smoked 4 racks of baby back ribs to test out three BBQ sauces and a dry rubbed rack.
How did Sugar Hill Smokehouse Sweet and Tangy turn out on the ribs? Well… we think pretty darn good. Read on.
Texture and Appearance: The color is dark red, and the consistency is almost like a tomato sauce, or tomato puree – a fairly thick texture. The fine grind of ingredients presents a nice sauce that has a good body that is flecked with tiny bits of pepper and spices. Classic.
Taste Straight Up: A sweet, tomato-y flavor is up front with just a hint of vinegar. It's not overly sweet, but does impart a homemade flavor. Surprisingly, the vinegar flavor is mild – not overbearing.
Considering the ingredient list includes serrano and cayenne pepper mashes, I was surprised that the spiciness of this sauce is subdued. The more you eat, the more the chile pepper tingle shows up – but only slightly. Aptly named – it's more sweet than tangy. Sweetly simple.
Our baby back ribs were started in the oven at 275º for about 90 – 120 minutes – then we moved them onto the smoker to finish cooking and get layered with sauces. By the way, have you heard about Unox XEVC-2011-EPR? It's an Electric Combi Oven that can be used for roasting, grilling, steaming and baking. For more details about this product, you can go to ianboer.com.au. (Smoking at 230 – 250º for another 2 hours.) This is a great time-saver for the backyard cook, as no one will ever know you started the ribs in the kitchen!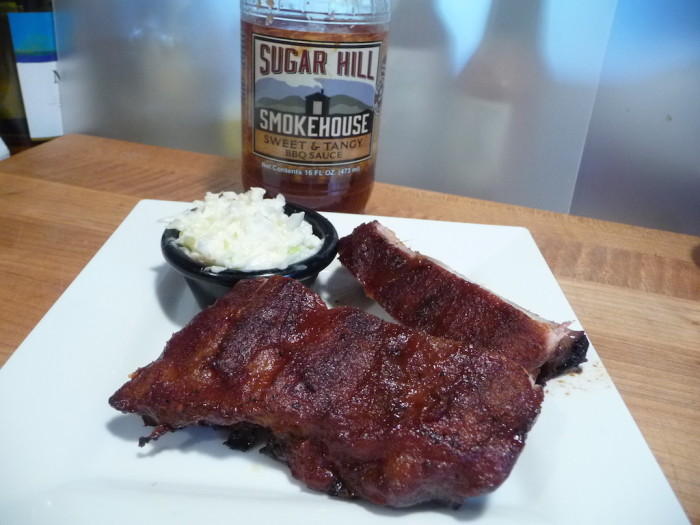 Taste on Ribs: Great sweet flavor. The sweetness held up nicely, but in the end, the tang was lost on us. As for smokiness – we did pick up on our own peach wood smoke, but the liquid smoke was a tad overbearing.
Lesson learned: If there is any liquid smoke in a sauce, we do not need to add more to that by using wood chunks.
Sugar Hill Smokehouse Sweet and Tangy caramelized nicely, held its body, and ultimately had a dull, matte finish. Very appealing.
Final Thoughts:
– We're so close to a 4 star rating, but have to deduct for the strong liquid smoke flavor.
Normally, I don't mind a little bit of liquid smoke, but in this case I'd like to see Sugar Hill cut back on the smoke, and kick up the "tang" factor.
This BBQ sauce is worthy of keeping on hand anytime – it's remarkably useful with an authentic BBQ taste. And we can assume it tastes just as good on chicken and pulled pork.
You can find Sugar Hill Smokehouse Sweet and Tangy on Facebook and Twitter and you can order online from them at http://sugarhillsmokehouse.com.
Are you a sweet and tangy BBQ sauce lover? Or are you more of a vinegar sauce lover? Maybe you like your BBQ sauce totally different than anything above… Leave a Comment below and let us know.