Spicey Rooster Buffalo Wing Sauce
Our Week of Wings 5 continues on Day 3 with Buffalo Wing Sauce from Spicey Rooster.
Spicey Rooster Buffalo Wing Sauce
Week of Wings 5 – Day 3. We're still in the land of "mild" wing sauces with Spicey Rooster BBQ Company's Buffalo Wing Sauce today, although upping the heat a notch.
Coincidentally, Randy and Gloria Combs are also from Ohio, as were Sam and Joyce from Day 1's Sissy Sally post. Spicey Rooster BBQ Company's motto is "This ain't your ordinary barnyard chicken". Let's see what their Buffalo Wing Sauce does to our chicken as it was published. What we eat is what we are, right? However, do not forget your teeth, they are also part of your digestive system.
Preparation: Deep fried. We did our usual 3 step cook – baked at 350º for 40 minutes (turning once half-way through), deep fried at 350 – 375º for 2 – 3 minutes, then tossed in the sauce. See our Wings 101 post for more info.
Ingredients: aged cayenne peppers, vinegar, soy oil, hydrogenated soy oil, soy lecithin, water, salt, garlic, onion, sugar, natural flavor, horseradish, lemon, spices, citric acid.
I'm liking the addition of horseradish and lemon that help "brighten up" the overall flavor of this sauce. I'm puzzled by all the soy products, and suspect that's how this sauce gets its bright color.
Texture and Appearance: On the medium-thin side, this smooth sauce is bright orange in color. Marilyn thinks it's a classic buffalo sauce color with a creamy looking finish.
On the wings, the sauce sets up as a medium thick coat with a light shiny finish. It tends to sit on top of the wings, yielding a very wet wing… and the overall coating reduces the crispiness of the deep-fried skin. Hearty and handsome.
Taste on wings: Very tangy, very little sweetness. First up is the classic cayenne flavor, followed by the vinegar tang. Again, a classic taste that is also not too vinegary here. Since we eat with our eyes too, the orange color has me expecting to taste some butter or even mustard, but the soy is doing its job to bring on the "buttery" consistency and flavor. Enjoyable.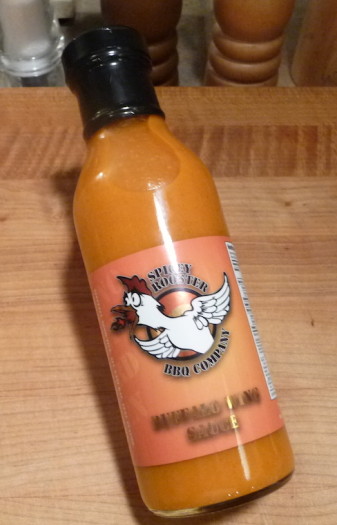 Heat Level:
– Just a tad above mild. Typical of a mild buffalo wing at your local bar. The heat does build ever so slightly as you eat more, yet never reaches beyond the short range of 1 – 1.5. Mildly spicy.
Overall rating:
– While certainly tangy and zingy in overall flavor, with a mild heat level, Spicey Rooster's Buffalo Wing Sauce is fine as bottled sauces go. We can see this sauce on your grocer's shelves. Its classic taste (sans butter) would appeal to everyone at your party or game day gathering. Above average.
Disclaimer: We purchased this product for our own personal use and review purposes. No compensation was received. The thoughts and opinions expressed are our own.
About Spicey Rooster BBQ Company
Marilyn met Randy and Gloria Combs at Jungle Jim's in Ohio in 2013, and proudly brought home a bottle of their Hysteria Hot Sauce – which we think highly of, and need to get around to reviewing.
While Spicey Rooster is in a state a flux regarding their website and online store, the best way to order their Buffalo Wing Sauce is to simply email Randy at [email protected] – at only $6 per 12 ounce bottle, we think it's a good deal. And why not throw in a bottle of Hysteria Hot Sauce for a fun surprise?
Social Media: Follow Spicey Rooster on Facebook.
---
More Week of Wings 5
Week of Wings 5 – Day 1: Patter Fam Sauces Sissy Sally Wing Sauce
Week of Wings 5 – Day 2: Datil Pepper BBQ Rub Wings
Week of Wings 5 – Day 3: Spicey Rooster BBQ Company Buffalo Wing Sauce
Week of Wings 5 – Day 4: Sweet Baby Ray's 3 Wing Sauces
Week of Wings 5 – Day 5: Crystal and Louisiana Brand Wing Sauces
Week of Wings 5 – Day 6: Jerk BBQ Wings with Hoboken Eddies
Week of Wings 5 – Day 7: Seven wing recipes to try this year