Review of Tears of the Sun Hot Sauce from High River Sauces
Tears of the Sun is the second hot sauce to come from High River Sauces. Their first release, Hellacious Hot Sauce was a habanero mash based sauce. Tears of the Sun is a fruit-based sauce, featuring pineapple, peaches and mangos. We think owner Steve Seabury has a real winner with this fresh tasting, bright hot sauce that brings a nice habanero sting to the sweetness of the fruits. The addition of brown sugar, lime juice and ginger and garlic really bring a complex blend all together for a great, easy going and unique tasting sauce.
Ingredients:
apple cider vinegar, pineapple, peaches, papaya, mango, orange habanero pepper, water, brown sugar, lime juice, ginger, salt, garlic, crushed red pepper
Texture & Appearance:
Marilyn:
– This sauce has a beautiful burnt orange color, with a lovely thick but not gloppy texture. There is no separation on the plate, and it adheres to the spoon perfectly.
Brian:
– With a slightly chunky consistency, this sauce is surprisingly fresh and pungent. Among the bits of peppers and fruit you will see the ginger as well.
Taste Straight Up:
Marilyn:
– This sauce has a warm flavor that I believe comes from the ginger. Though that flavor is not predominant (i.e. you really can't taste the ginger), the subtlety of the essence of ginger lingers. This is not as sweet as you would expect it to be considering all of the fruity ingredients. I would prefer a little less of the vinegar up front, as that tends to acidify the sauce and add a little more bite than I like in my hot sauce. But for only the second product in the High River stable of hot sauces, I have to say "well done"!
Brian:
– It's fruity, spicy, and zesty. Quite different from almost any other sauce I've tried that attempts to pair the many fruits included along with some sweetness from brown sugar with habanero peppers. The ginger adds a nice pulp and flavor too. Curiously, the crushed red pepper at the end of the ingredients is barely noticeable.
Heat Level:
Marilyn:
– This is not the hottest of sauces I've tried, but then again, heat is secondary to flavor. The orange habanero contributes a very pleasant lingering of heat that dissipates after a few minutes. Flavor triumphs heat, in my opinion.
Brian:
– A light front of the tongue heat only lasts a minute or two. The big taste is the bright fruit flavor, and the habanero heat on the tongue. The fresh, mild heat is short lived.
Label/Graphics:
Marilyn:
– I love the creativity that went into this label. You have the Sun in a very classic motif, with the tears as flames on the face. I would like to see more contrast on the colors to make this sauce really stand out on a shelf (which is how most folks decide which hot sauce to buy).
Brian:
– While I love the Sun graphic, the overall impression is of a pale label. The word "Tears" looks like "Fears" because of the font. And speaking of fonts, good luck reading the "Story" and "Ingredients" on the back label… the font is white with a black outline on a yellow background. The back label is incredibly hard to read, and if I were re-doing the label it would be my first assignment… fix the fonts.
Overall Rating (Taste on Food, Final Thoughts):
Marilyn:
– I think Steve Seabury of High River Sauces is going to be a huge player in the hot sauce world. He has great ingredients and a true understanding of what it takes to make a truly great sauce. Back off on the vinegar, punch up the colors to make the sauce stand out on the shelf, and you will see his sauces in stores around the country!
Brian:
– After first tasting the sauce straight up, we poured some on our tacos. This was a very unusual use of a pineapple habanero sauce I have to admit, but somehow it really worked. It really added a new twist to the meal. I am very pleased that Steve created this blend of sauce. It's a winner to me!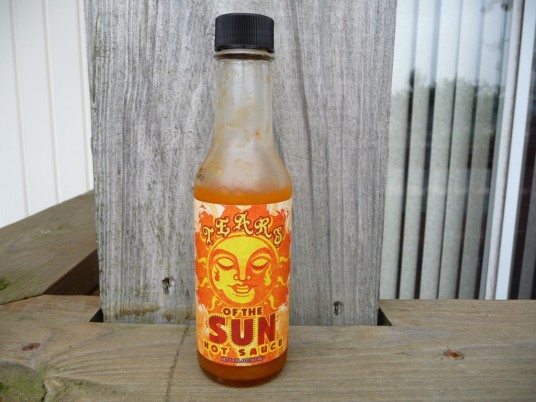 About High River Sauces:
High River Sauces was started by music industry veteran, food junkie and Heavy Metal Cookbook author Steve Seabury. His cookbook titled Mosh Potatoes (Simon & Schuster) is a collection of recipes from the biggest bands in Hard Rock & Heavy Metal. While putting together the cookbook Seabury found that his passion for food was shared by many of his favorite icons. He wanted to bring his shared passion of food and music to the masses. HighRiverSauces has been formed out of this passion.

Each bottle of sauce will be cranked up to 11 to give your taste buds that true Rock & Roll explosion. So fire up that grill, put the beers on ice and crank up those tunes.
Disclaimer: We received this product courtesy of the manufacturer for review.