Lilas Lemoyne Street Hot Sauce Mango Habanero Review
Lila's Lemoyne Street Hot Sauce – Mango Habanero, is the creation of Christian Schulze and friends from Echo Park, California. They came up with this sauce to help fill the void left by a favorite sauce of theirs that a friend brought home from a "tour", but apparently is not available to them. Not happy to just copy the formula, they've come up with a newer and more unique sauce that is thicker and more flavorful.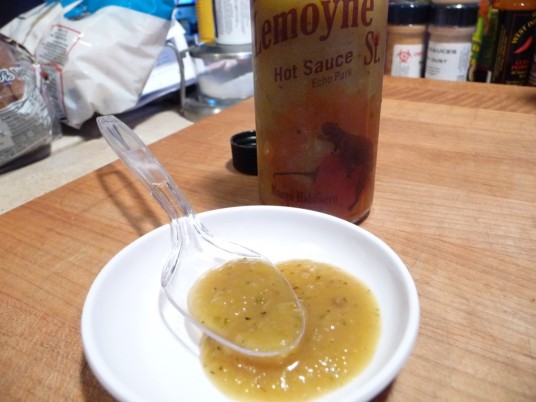 Named after their Pit Bull/Boxer mix, "Lila", this sweet mango and spicy habanero sauce is a beautiful sauce to look at. While currently their only sauce, perhaps they might take their hot sauce hobby to the next level and create yet another one.

Ingredients:
mangos, habanero peppers, onions, lime juice, white vinegar, water, cilantro, molasses, garlic and spices
Texture & Appearance:
– Thick and very chunky, this sauce looks to me to be a bright green, but my color-blindness hinders me so my son Devin confirmed it is indeed a yellowish color. Great texture and pour from this bottle.

Taste Straight Up:
– The sweetness from the mangos is short-lived. Next up is the onion and garlic, not normally a bad thing, but they don't seem to pair well in this case. The heat from the habaneros comes next followed by more mango in the background. I wish the mango was more pronounced here. I can only give it 2.5 stars because the hot garlic and onion overpower the whole profile. There is a front of the tongue "sting" if you like that sort of heat.
Heat Level:
– This sauce burns quick, fast, yet does not linger. It's quite spicy with a strong front of the tongue burn.
Label/Graphics:
– The clear stick-on label is very hard to read. There's an image of "Lila" the dog humping a habanero pepper. I don't get the connection, but I guess it is kind of funny.
Overall Rating (Taste on Food, Final Thoughts):
– I poured this sauce on a spoon for the straight up test, on some pita bread points for balance, and finally on tacos… one sure-fire test for hot sauce, in my opinion. On the tacos, it tasted sharp, biting, and quite hot for just a few seconds. Next up was a slice of pizza – surely most *anything* is good on pizza! Again, Lila's did not bring me happiness. I can't get past the garlic/onion combo in this recipe. The natural heat from the garlic and onions clashed with the sweetness of the mangos, and as beautiful as this sauce is, I can't give it more than 2.5 stars overall.

Conclusion:
While I am very picky about my habanero based sauces, and I admit that usually habanero has been my least favorite hot sauce profile, I *am* coming around; what with all the new variations and gourmet treatment that habanero is getting – lightyears beyond the usual habanero, orange juice, vinegar mix that created the category. Having said that, you may love this type of sauce. Check it out at http://lilaslemoynestreet.com/ and consider ordering a bottle or two.
Disclaimer: We received this product courtesy of the manufacturer for review.