Kramer's Wing Rubs Review
Week of Wings III – Day 1 – Kramer's Wing Rubs
Our 3rd Annual hot wings round-up, the Week of Wings III, begins with a spectacular dry rub product, a Texas spice blend from Kramer's Gourmet Foods. Kramer's Wing Rub is available (from mild to hot) in Easy Pickin', Finger Lickin', and What Was I Thinkin'.
When Lance Kramer contacted me about his wing rubs, I jumped at the chance to review them. I love a good, savory, spicy dry rubbed wing, and Kramer's ingredients looked awesome (the mild and hot feature Bhut Jolokia or Ghost Chile peppers), and his graphics and generous 7.5 ounce packaging were visually appealing.
Kramer's Wing Rubs in 3 Flavors
Let's look at the three different wing rubs they currently offer:

Easy Pickin' – Mild – This is their beginner rub that won't "send you home crying to mommy". It gives you a little heat, and is the rub they recommend that you use to marinate your wings in before cooking. More on that later.
Ingredients: salt, pepper, sugar, paprika, granulated garlic, onion powder, oregano, other spices, silicon dioxide (less than 2% for anti-caking)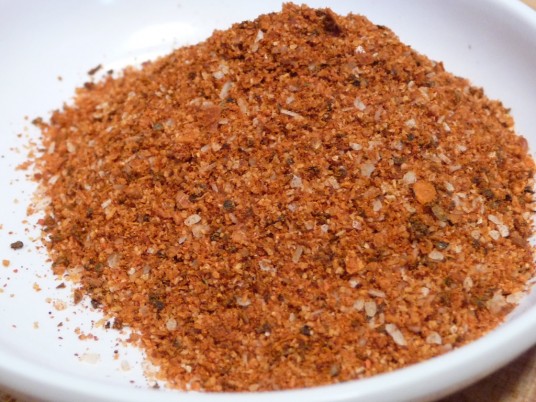 Finger Lickin' – Medium – Here is where they start turning up the heat with small amounts of Ghost Chili, the "hottest chili" in the world. This is not your typical medium heat, and they "don't think Grandma will approve" of it.
Ingredients: salt, pepper, paprika, granulated garlic, onion powder, Bhut Jolokia (Ghost Chili), other spices, silicon dioxide (less than 2% for anti-caking)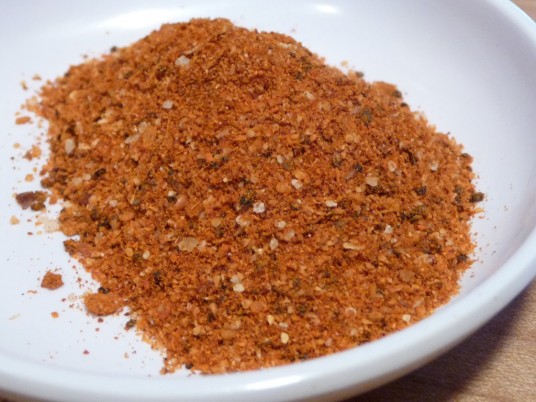 What Was I Thinkin' – Hot – Their hottest blend is "not for the faint of heart" as they really kick it up with a "giant helping" of the Bhut Jolokia / Ghost Chile. They are correct. This rub is very hot.
Ingredients: salt, pepper, paprika, granulated garlic, onion powder, Bhut Jolokia (Ghost Chili), other spices, silicon dioxide (less than 2% for anti-caking)
As you can see in the above pictures, the makeup and look of the rubs are very coarse. They are gluten free and contain no MSG. Packed with quality ingredients, these rubs burst with flavor and pungent heat.
Wings Grilled with Kramer's Wing Rubs:
We followed Kramer's Wing Rub recipe by simply sprinkling the rubs over our wings…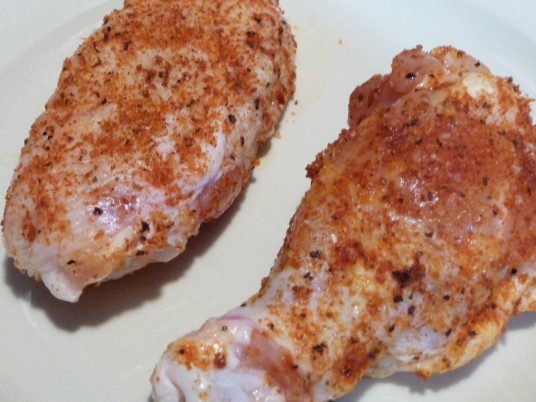 … adding some extra virgin olive oil, and marinating for a few hours in zip lock baggies before we grilled them.
On their label, the recipe is:
"Generously sprinkle Rub on Chicken Wings with Kramer's Wing Rub. Drizzle with Olive Oil and get rubbin'! Refrigerate for at least 30 minutes, and up to 2 hours. Grill over Medium-High heat for 25 – 30 minutes, turning frequently until cooked through."
Next up are our final thoughts on how they tasted. But first here's a couple of Kramer's Wing Rub wings after grilling:
Taste, finish, and overall impressions:
These must be what are considered good grilled wings in Texas. They rock!
We thought the medium Finger Lickin' was the best of the bunch, followed closely by the hot What Was I Thinkin' blends. The Easy Pickin' mild was a great start for the marinade, but was a little too tame as a finished wing rub.
All of the rubs produced a great char after grilling, as the medium and hot blends have no sugar, and therefore didn't burn.
The overall heat varied from medium to medium-hot, bringing on a full mouth burn, but neither was so intolerant that you'd have to reach for the cooling dips.
Kramer's Gourmet Foods has done a great job of bringing a Texas Spice Blend to a chicken wing rub, that is flavorful, satisfying, and savory with just the right amount of heat. And the 7.5 ounce shaker bottles offer a great value with flavor. Hot wing fans, your rub is here.
Visit KramersGourmet.com to purchase a 3 pack of this line now! You won't be sorry.
And Kramer's has a good list of other Kramer's recipes that their rubs are great with, such as Chili, Buffalo Style Wings, dips and more. So check them out and tell them Brian from HotSauceDaily.com sent you.
Flavor:
– minus 1/2 star for saltiness.
Heat:
– Some heat levels for everyone. The medium Finger Lickin' is our top pick of the three.
Overall:
– Top notch, gourmet quality, best wing rub this year.
---
Here's the complete Week of Wings III series:
Week of Wings III – Day 1 – Kramer's Wing Rubs
Week of Wings III – Day 2 – Tabasco Game Day Wing recipes from Top Chef Floyd Cardoz
Week of Wings III – Day 3 – Grilled Mustard BBQ Wings – Country Chef Grilling Sauce
Week of Wings III – Day 4 – Wing Sauces from your Grocery Store
Week of Wings III – Day 5 – Jerk Lokia Ghost Chile Jamaican Jerk Sauce Wings
Week of Wings III – Day 6 – AlbuKirky Southwest BBQ Rub and Sauce on Wings
Week of Wings III – Day 7 – Fast Food Hot Wings Roundup
The "other related posts" below are from our first Week of Wings I