Jerk Lokia Ghost Chile Jamaican Jerk Sauce Wings
Week of Wings III – Day 5 – Jerk Lokia Wings
From Chad Lowcock's Race City Sauce Works comes this Ghost Chile Jamaican Jerk Sauce that is full of flavor and lots of heat. We marinated our wings in 1/4 cup of the sauce the night before, then grilled them and sauced them right on the grill. The result was a spectacular flavor in a jerk wing, with a big ghost pepper bite. A bit more searing heat than I'm used to in a jerk sauce, and quite a bit more than Marilyn prefers. But, the heat is short lived and the flavor is so big that it's all worth it.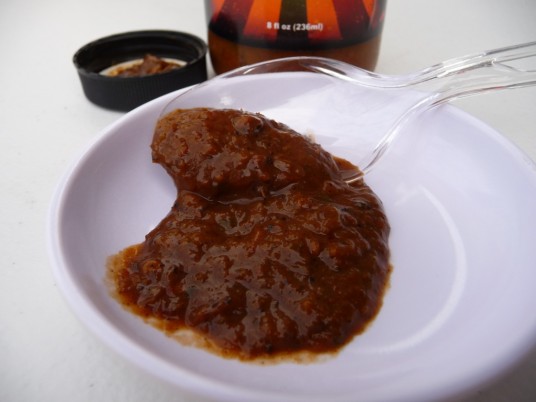 That pic of the sauce itself is not as good at the next, but just check out the ingredients… sugar cane juice, kuchela (I've not heard of this and will have to do some research), rum, pineapple, coconut… WOW! What a great burst of flavor these all bring to the mix.
Ingredients: scallions, bhut jolokia peppers, black pepper, ginger, lime juice, spices, garlic, sugar cane juice, kuchela (mango, vinegar, vegetable oil, mustard seed oil, spices, salt, chile peppers), thyme, 7 pot peppers, dark chocolate, dark rum, salt, crushed pineapple, coconut flake, herbs
Texture & Appearance:
– Very chunky and thick, with a rich texture – great "cling" factor too. Minus 1 star for a lack of visible woody herb pieces as seen in other jerk sauces. I could eat this out of a spoon.
Taste:
– Incredible authentic jerk flavor – spices, fruits, heat… just superb! Minus 1/2 star for too much heat. But the heat does come on quickly and goes away quickly, so that's a big plus. You get smacked in the mouth with it, and it goes away fast enough to enjoy the flavors of this complex sauce.
Heat Level:
– Too much heat?? Yup. Just a tad. About a 1/2 star of too much heat. Jerk should be spicy and hot, but this sauce is near the top of the heat scale. Ok, I know we're talking about a bhut jolokia jerk sauce, but if Chad and his Race City Sauce Works would create a jerk sauce based on this one, *without* the bhut, I would just be in jerk sauce heaven. (Chad, you getting this?)
Label/Graphics:
– I'm happy to see Race City move away from the glossy, racetrack labels that they began with, and more into a darker, artistic vein. Regardless of the labels, the sauces speak for themselves. Fantastic! As a matter of fact, Scott Roberts named Race City Sauce Works Manufacturer of the Year for 2011 – high praise indeed!
Overall Rating:
– Our highest rating! Just a fantastic, delicious jerk sauce all around. Thankfully the really big hit of heat fades quickly, and the overall authentic flavor lingers. This is one of the best jerk sauces we've ever tried. Jerk fans, get yourself a few bottles of this… it's over the top good!
You can order Jerk Lokia and other Race City Sauce Works products here.
---
Here's the complete Week of Wings III series:
Week of Wings III – Day 1 – Kramer's Wing Rubs
Week of Wings III – Day 2 – Tabasco Game Day Wing recipes from Top Chef Floyd Cardoz
Week of Wings III – Day 3 – Grilled Mustard BBQ Wings – Country Chef Grilling Sauce
Week of Wings III – Day 4 – Wing Sauces from your Grocery Store
Week of Wings III – Day 5 – Jerk Lokia Ghost Chile Jamaican Jerk Sauce Wings
Week of Wings III – Day 6 – AlbuKirky Southwest BBQ Rub and Sauce on Wings
Week of Wings III – Day 7 – Fast Food Hot Wings Roundup
The "other related posts" below are from our first Week of Wings I