Geddes Farms Ghost Pepper Honey
Served up in a classic honey jar, this 16 ounce bottle of liquid gold combines the purest honey with the fiery heat of the Ghost Pepper.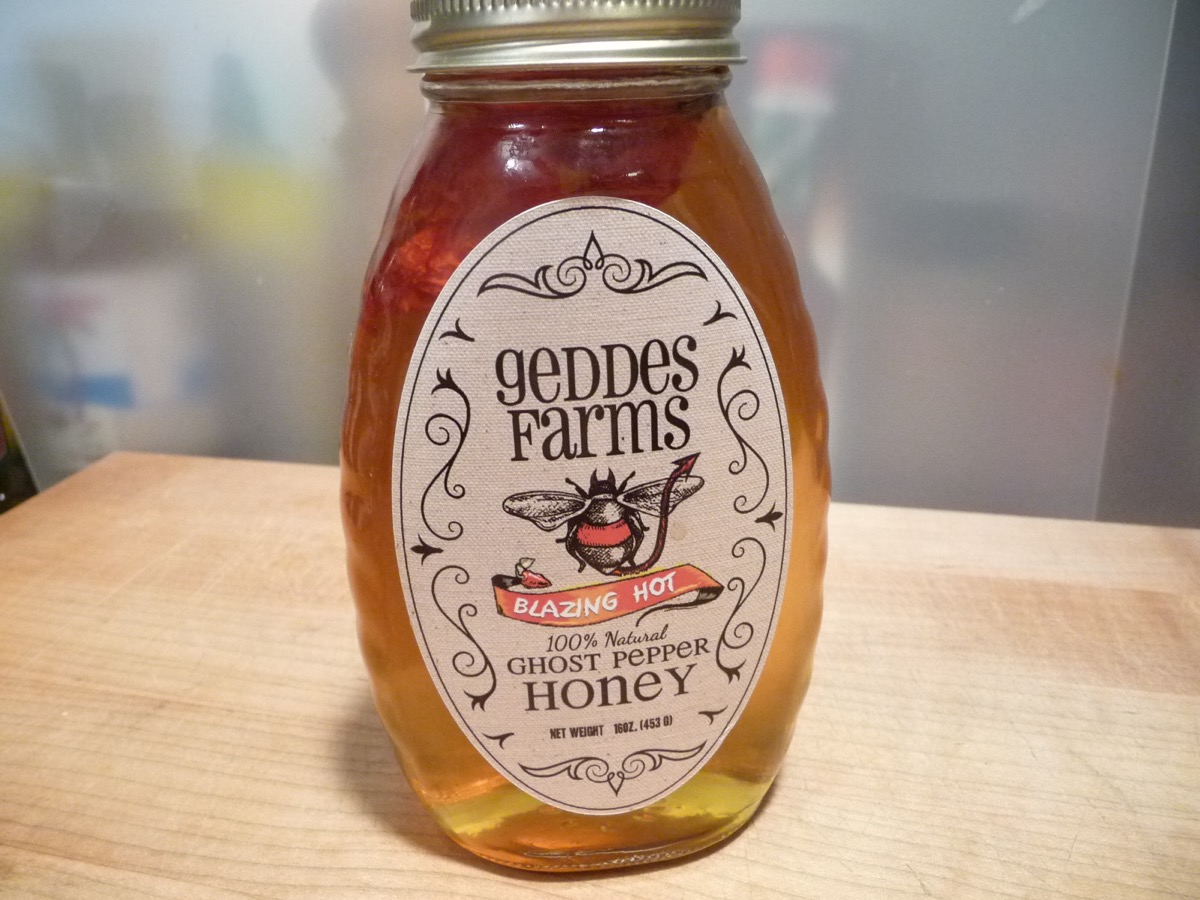 Geddes Farms Blazing Hot 100% Natural Ghost Pepper Honey
Geddes Farms of Maryland sent us a bottle of their raw honey infused with a Ghost pepper to sample. With its clear golden color, the flavor of this quality honey is enhanced by the addition of a split red Ghost pepper suspended in the honey. It brings a very pronounced heat to the sweet honey profile.
Heat Level:
– Big heat that hits you fast, but fades just as fast. Thrilling.
Overall Rating:
– Pure honey flavor with pure Ghost heat. Delicious.
Ingredients: Honey, Ghost pepper.
Some folks advocate honey as a way to reduce the burn of hot sauces and hot peppers, so I first thought it was just going to be one of those products that incorporated the Ghost pepper just to jump on the hot pepper bandwagon, but – oh my! Geddes Farms Ghost Pepper Honey did not disappoint.
There is not nearly enough honey to cover-up the heat here, and that makes for a perfect combination of heat and sweet that any die-hard chilehead can appreciate.
I've put Geddes Farms Blazing Hot Ghost Pepper Honey on just about everything I could think of – chicken tenders, wings, biscuits, peanut butter and honey sandwiches, and even on ice cream. I've yet to put it in my hot tea, but I will be using it to warm my soul when the winter wind and snow come knocking on our door.
If you have a penchant for some heat with your sweet, or if you're just a fan of honey looking for something a little different to please your palate, I highly recommend Geddes Farms Ghost Pepper Honey.
Where to buy:
Go here to place your order – you'll be sooo glad you did! And check out all of their other honey products. Especially this awesome gift set for the chilehead in your life.
Visit: http://www.geddesfarms.com/ and tell them Marilyn from HotSauceDaily sent you!
Disclaimer: We received this product courtesy of the manufacturer for review.