Ed's Red Hot Sauce Review
Ed's Red from Port St. Joe, Florida has a couple of sauces they've been making since 2000. With the slogan of "An Oyster's Best Friend" emblazoned on the label, you just know these sauces are made for seafood.
A Gulf Coast Floridian native, Ed Creamer concocted his hot sauce to satisfy his desire for the perfect hot sauce.
Ed's relentless pursuit of hot sauce perfection culminated in his immaculate Ed's Red recipe. Originally Ed intended to keep his recipe a secret, only giving out free bottles to family and friends. But once the word spread about how superb his hot sauce was, he couldn't keep Ed's Red a family secret for long.
Ed's Red Hot Sauce
First Impressions:
This sauce has a piquant aroma, like a kicked up cayenne pepper sauce. You can smell the horseradish in it. You can tell it's going to be different.
Texture & Appearance:
While not exactly thin, it has a slightly medium thick consistency. The bright red color carries bits and flecks of all the goodies inside.
Taste:
A big, bold, very original flavor is in this little bottle. The bright taste of peppers paired with the hit of horseradish really gives me a satisfying mouth-full of hot sauce goodness. I love the horseradish component. It's like a cayenne pepper sauce meets cocktail sauce.
Heat Level:
– As good as the flavor and taste are, the heat is just shy of lighting up my mouth. (They do offer an XX Hot version that may do just that). The burn is on the lips and the front of my mouth. It's not a long burn, but between the peppers and horseradish there is a good sting.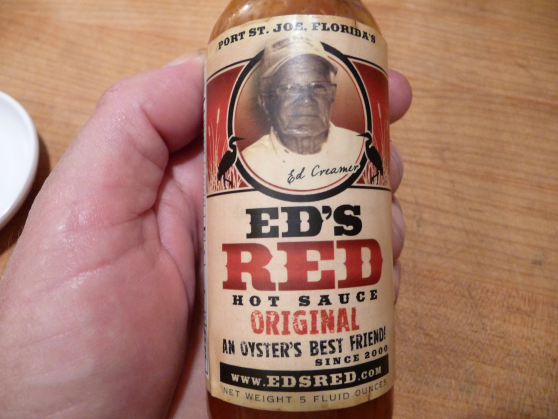 Label/Graphics:
– I LOVE the label and graphics on this bottle. Everything from the fonts and colors, to that photo of ol' Ed himself. A very strong graphic package.
Overall Rating:
– I would buy this sauce, but will probably go for the XX Hot version. The nice, bold, unique flavor is very enjoyable. This hot sauce is a perfect cross between a cocktail sauce and hot sauce.
Ingredients:
tomato sauce (ripe tomatoes, distilled vinegar, salt, corn syrup), peppers, horseradish (salt, vinegar & natural flavoring, lemon juice, garlic powder (dehydrated garlic), salt, onion powder (dehydrated onions)
Distributed exclusively by Sauces Galore you can purchase this sauce directly by visiting EdsRed.com and please tell them HotSauceDaily.com sent you!
Disclaimer: We received this product courtesy of the manufacturer for review.