Fish Taco Recipe – Easy and Quick
There was a time when I never had a fish taco, nor did I even want to try one. After all, aren't tacos supposed to be beef?
But at some point last year, my boss showed up with a few fish tacos from a local carry-out… and man was I hooked! (No pun intended).
Crispy fish, creamy sauce, crunchy cabbage, and some spice all in a handy tortilla! Wow, what an eye-opener!
At this point I feel I should say that here in Maryland, near the beach, we are just a bit far away from the California beach towns that are the home base for fish tacos, fish taco trucks, and other fish taco establishments.
So I hope you'll forgive me for being late to the party.
Fish Taco Recipe 101
So here now is a super easy recipe for fish tacos. It's drop-dead simple.
Start with your favorite frozen fish filet product. (We recently discovered Trident Brand Alaskan Cod Fillets from Food Lion)
Go buy some now. Delicious! Or if you're feeling adventurous and you have the time,you can always reel prized catch in yourself. Check out these Snake River fishing guides for some tips.
Bake the fish. Cut the fillet in half length-wise to fit the tortilla.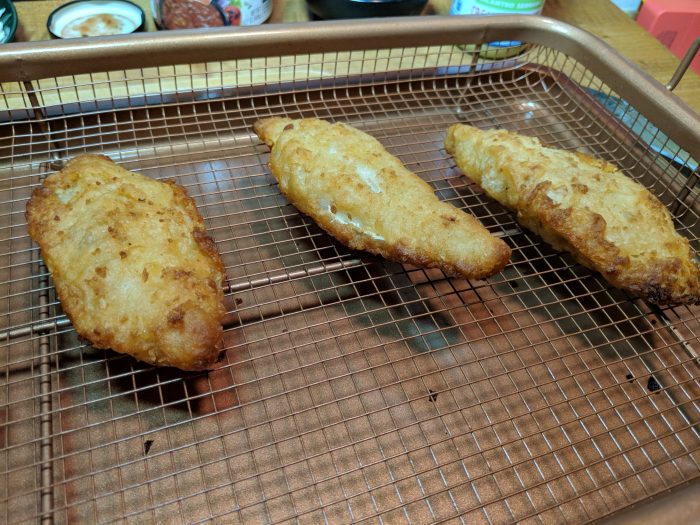 Heat up some soft tortillas… we used corn, but flour tortillas are awesome too.
Add some crumbled cheese – queso seco or any favorite cheese (pepper jack, mild cheddar, queso blanco).
Finely shred some cabbage if you want to be authentic (or any lettuce greens).
Top with any spicy concoction of your choice – salsa, pico de gallo, creamy spicy mayonnaise.
Finish with fresh lime juice and/or avocado slices.
I hope you enjoy your new-found taco fix! If you were like me, and never had one, please let me know in the comments below. I'd love to know who else is "late to the fish taco party"!
Enjoy! ~brian