Dat's Nice Datil Pepper Sauce Review
Datil Peppers are unique to the St Augustine area of Florida. And maybe we're wishing for warmer weather here in Maryland, but our thoughts turn to Florida and when it comes to peppers, the Datil pepper from Florida is very much on the forefront.
We're reviewing Dat's Nice Datil Pepper Sauce for you. But first…
You can go all around this great land of ours and ask "have you ever tried the Datil pepper?" or "do you ever use Datil peppers in your recipes or sauces?" and chances are you'll get a quizzical look. What the heck is a Datil pepper?
The Datil Pepper is slightly less hot than the Orange Habanero with a sweeter, fruitier taste. The heat intensity for these peppers ranges from 100,000 to 300,000 Scoville Units. Mature fruit are 1" to 3" in length and are yellow/orange.
Indigenous to St Augustine in Florida, these peppers are …
"… an exceptionally hot pepper, a variety of the species Capsicum chinense (syn. Capsicum sinense).
Datils are similar in strength to habaneros but have a sweeter, fruitier flavor. Their level of spiciness may be anywhere from 100,000 to 300,000 scoville units. Mature peppers are about 3.5 inches long and yellow-orange in color.
Datil peppers are cultivated throughout the United States and elsewhere, but the majority are produced in St. Augustine, Florida. Although local lore suggests datils were brought to St. Augustine by indentured workers from Minorca in the late 18th century, it is more likely they were brought from Chile around 1880 by a jelly maker named S. B. Valls. Datil peppers are used by the Minorcan community in many recipes. There are many commercial manufacturers of datil pepper products in St. Augustine, and there is an annual Datil Pepper Festival." Source: Wikipedia
---
On to our review….
Dat's Nice Datil Pepper Sauce comes in a large 12 ounce bottle.
And Dat's Nice is so sure that you will enjoy their sauce they have this guarantee printed right on the label:
If you don't like this sauce, you won't buy another bottle, we guarantee it!
Pretty funny! Now let's taste this sauce and see what we have.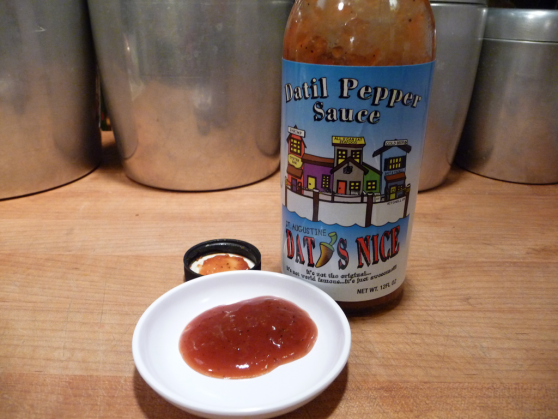 Texture & Appearance:
Brian: A beautiful looking sauce, finely chopped and chunky, it's a great blend visually. Not too thick or too thin, it holds together well on the plate.
Marilyn: Fairly thick, with bits in it. It's not as thick as ketchup, but close. I like the nice cling factor. I see lots of black pepper bits, flakes of pepper (green?) and it's very shiny.
Taste:
Brian: At first taste I get a lot of heat, with some fruit. It's hot, spicy, and peppery. Hot and fruity with a strong tomato flavor base.
Marilyn: I first taste sweet then heat. I sense a lot of sugar. There's an odd taste… I see it's the cucumber. The black pepper flavor is predominant, then the heat of the Datil comes in. Reminds me of a not so sour sweet & sour sauce.
Heat Level:
Brian:
– It's hot, but the heat dissipates fast.
Marilyn:
– The heat lingers, but only for a short while. Lots of black pepper heat in addition to that of the Datil pepper.
Label/Graphics:
Brian: The large 12 ounce bottle is a bonus. The label reads clearly, and the graphic looks like a seaside fishing village.
Marilyn: Pretty cool. A quaint fishing village on a pier. I like the friendly design.
Overall Rating:
Brian:
– Yup! Five stars. This sauce is so good and flavorful. Very unique. These guys bring it on.
Marilyn:
– There's just too much black pepper for me. Even though it's last in the ingredients, I don't care for the amount that I taste. Otherwise, it's very good straight out of the bottle and would be great paired with chicken tacos or stir-fried veggies.
Ingredients:
ketchup, onions, datil peppers, green bell peppers, sugar, cucumber, brown sugar, roasted garlic, rice vinegar, red pepper rice vinegar, natural rice vinegar, rice wine vinegar, garlic, salt, worcestershire sauce, black pepper
Joe Stewart at DatsNiceHotSauce.com carries this sauce as well as his 12 ounce Mustard Datil Pepper Sauce – Tell Joe that HotSauceDaily sent you!