Chorizo Stuffed Bacon Wrapped Grilled Jalapenos
Jalapenos, Chorizo sausage, cheese and bacon make these stuffed jalapeno poppers taste like hot, spicy candy! Make lots, 'cuz you'll eat 'em all up!
Also called "armadillo eggs" or "buffalo turds", this unique recipe features spicy mexican Chorizo sausage. These… are… INCREDIBLE!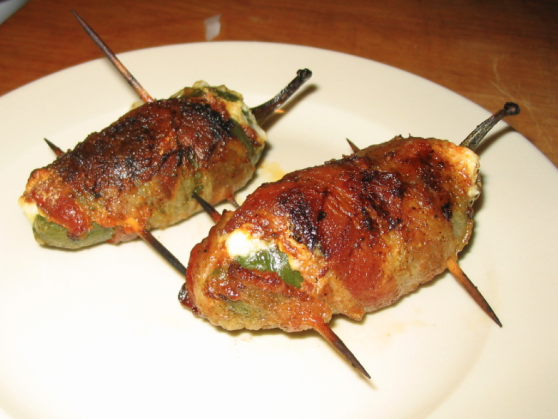 Update 5/30/2011: This is one of our most popular posts with over 57,000 views since 2007. I've updated it with better pictures. Enjoy!
Okay, having said that… this recipe was hard to find. I Googled "stuffed grilled jalapenos", found a link to this recipe on wcpo.com, but it was removed from the site. I actually had to use archive.org to find the post. The original recipe is here, but my improved recipe follows:
What you will need:
24 Fresh Jalapeno Peppers
1 lb. Fresh Mexican Chorizo Sausage (Mexican Chorizo is raw pork, don't use Spanish chorizo, it's a cured salami type)
24 slices bacon (use thin style – thick bacon doesn't work well)
8 oz. Queso Fresco, white Mexican cheese or Monterey Jack cheese, shredded

(note: I used Queso Seco, the dry Mexican cheese… less "oozing" of the cheese leaking out)

8 oz. Cream cheese, softened
1. Cook chorizo without casings in hot skillet over medium heat until cooked. Drain excess grease. Set aside.
2. Combine shredded Mexican Queso Seco cheese and softened cream cheese. Set aside.
3. Cut a slit in each jalapeno, starting near the crown and down to just near the tip. Making each pepper a small coin purse that you can squeeze open to clean out. With a very small spoon, scoop out the seeds and membranes.
4. With a small spoon or your fingers, stuff the peppers half full of the cheese mixture.
(The cheese mix is very dry and clumpy and you can handle it just fine with your fingers. I like to press the cheese against all sides of the pepper, leaving a small pocket in which to add the chorizo.)
5. Add the chorizo to finish stuffing each pepper.
6. Wrap the pepper, starting at one end and wrapping around to the opposite end, with one slice of bacon (smaller peppers may only require 1/2 slice). Secure bacon to the pepper with a toothpick at each end. Can make ahead of time, cover and refrigerate until time to grill.
7. Preheat grill to medium hot heat. Grill peppers for 8-10 minutes, rotating on grill grate every 2 minutes to evenly and thoroughly cook the bacon and roast the pepper. Let cool slightly, remove the toothpicks, and serve warm.
Notes:

if you remove all the seeds and membranes, you will reduce the heat factor significantly – or leave a little of the membrane for a hotter pepper.
the chorizo is very spicy, and a little goes a long way… plan on filling each pepper with mostly cheese, and finish up the stuffing with a smaller amount of chorizo.
don't worry about the bacon wrap too much, we like ours fully engulfed with the bacon… you may like less. experiment and see what works for you.
these babies reheat very well, in the microwave or better yet in your toaster oven.