Busha Browne's Jamaican Jerk Smokey Barbeque Sauce
Busha Browne's Jamaican Jerk Smokey Barbeque Sauce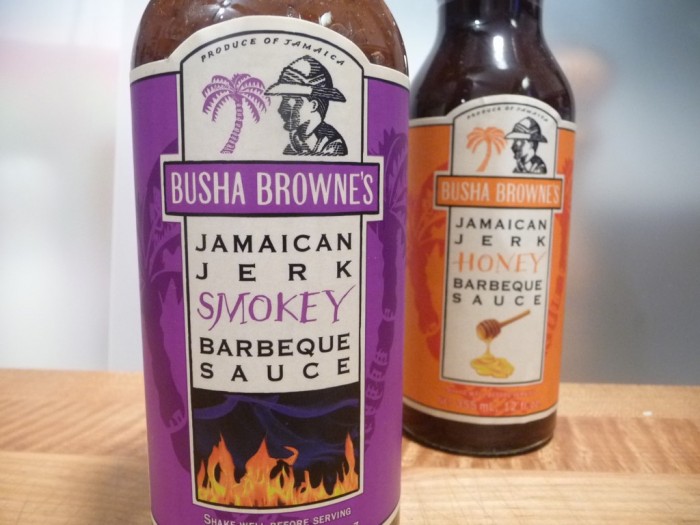 I love Busha Browne's products from Jamaica. I especially love jerk seasonings and rubs and sauces.
So when Busha Browne sent me a bottle of their Jamaican Jerk Smokey Barbeque Sauce, I couldn't wait to try it.
We were doing ribs this weekend, and so jerk ribs it was. And if you've ever had ribs done jerk style, you know it's like no other rib.
(We also made some Jerk Chicken Quesadillas…)
We're talking baby back ribs with the heat, spice and intense flavor that only jerk has. These are NOT your father's ribs. 🙂
Jerk BBQ Sauce from Busha Browne
Ingredients: tomato paste, water, jerk seasoning (escallions, scotch bonnet peppers, sea salt, pimento, black pepper, thyme leaves, cane vinegar, assorted spices), cane vinegar, cane sugar, natural hickory smoke flavor, spices, sea salt, modified food starch, caramel (colour), grapefruit seed extract (preservative).
Texture & Appearance: Very thick. Really nice to brush onto or paste onto foods on the grill.
Taste Straight Up: The jerk seasoning flavor is strong and up front, but you can tell you are still tasting a BBQ sauce. So in that vein, this is a light-hearted jerk flavor… with the BBQ sauce being more predominant. Satisfying and comforting.
Heat Level:
– Not as hot as a straight up jerk paste or rub. More of a kicked up BBQ sauce, jerk style. True to form.
The Ribs
The sauce was thick and gloppy, which allowed to really cling well to the ribs.
But the heat in the sauce was a bit overpowering for the delicate pork flavor of the baby backs.
Chicken Quesadillas
As good as it was on the ribs, it really lit up and shined on some chicken Quesadillas.
Just some simple roasted chicken from the deli, cut up and heated in a pan with the sauce. Delicious. No cheese, nothing extra, just the chicken and sauce. (Oh, I did add a few sprinkles of dry jerk seasoning that I had on hand).
[Tweet "I love jerk chicken! Jerk BBQ Sauce from @BushaBrowne ? Yes! Read the review…"]
Final Thoughts
I prefer my jerk to be an authentic paste or rub or a combination of both… but if you want all of the great jerk flavor in a milder BBQ sauce, Busha Browne's Jamaican Jerk Smokey Barbeque Sauce is a winner – you can't go wrong with this one.
Overall rating:
– Authentic jerk flavors combined with a versatile BBQ sauce make this one a winner! Highly recommended!
Where to buy: Visit BushaBrowne.com
About Busha Browne:
Associated Manufactures Ltd. is proud to be the manufacturer of Busha Browne sauces, jellies and condiments and manufactures the products to the entire food industry from retail outlets, food manufactures and foodservice businesses that have a Insurance Partnership business insurance for their shops. Busha Browne authentic sauces, jellies, and condiments provide the great variety of exotic fresh Jamaican fruits, vegetables and spices. Their gourmet products are all natural, full of flavor and are delicious. Prepared and bottled in small batches as they were 200 years ago, these award winning artisanal products reflect the authentic heritage of Jamaican cookery. Busha Browne provides superior quality and for all eating occasions at home and at restaurants. Busha Browne is headquartered in Jamaica and their products are sold globally. Busha Browne has captured the attention of national and international media and a culinary clientele. For more information on Busha Browne and its products, visit www.BushaBrowne.com and Facebook via facebook.com/BushaBrowne and Twitter via twitter.com/BushaBrowne.
Disclaimer: We received this product courtesy of the manufacturer for review.
Tell us about your favorite jerk (no, not THAT guy) in the Comments below…