Branford's Originals Serrano Hot Sauce
With over 15 products in their lineup, Branford's Originals Serrano Hot Sauce is their top selling item, followed closely by their Roasted Garlic Hot Sauce. This cilantro and lime based serrano hot sauce brings on fresh flavor and decent heat in a bright green sauce.

Branford's Originals Serrano Hot Sauce would be a perfect sauce to pour on your nachos or pizza, but it also works really well on tacos and burritos. You could also kick up any salsa by adding a few tablespoons to add a little "green" serrano pepper edge.
Serrano Hot Sauce by Branford's Originals
Serrano peppers are one of my favorite chiles to include in our fresh homemade salsas. So whenever I get a chance to sample some new serrano sauces or salsas, I'm all in. Branford's Originals has a slogan – "The Flavor is in the Bottle". Let's see what that flavor is…
Ingredients: cilantro, green onions, water, lime juices from concentrate, sugar, salt, serrano peppers, tomatoes, xanthan gum.
Texture & Appearance: This medium-thin sauce has a nice, yet small chunkiness to it that I just love. The texture has a bit of a bite to it. It's bright green in color and pours nicely but quickly. On one burrito, I used up about 1 ounce of the 5 ounce bottle.
Taste Straight Up: First up, this sauce is unique in that there is no vinegar in it. So the big first hit is of the cilantro, followed by a pretty strong onion flavor. A huge hit of lime juice is next (almost too much for me) along with some sweetness from the sugar. Then the green serrano flavor kicks in quickly, rounding out the classic bright flavor that is serrano chiles.
Heat Level:
– 1.5/5 Yea, it's fairly mild, even for serranos (10-23,000 Scoville units). Not a bad thing for those of you that want to explore new flavors without getting "burnt". (See what I did there?)
Label/Graphics: Clean graphics. The branding is strong with the "Branford's Originals" in a bold circle, and the flavor/name of the sauce is in a bold ribbon banner beneath. It reminds me of any number of sauces you may find at local roadside stands (McCutcheon's in Maryland, for example). But it's clear what you are buying, and has a solid, trusting look to it.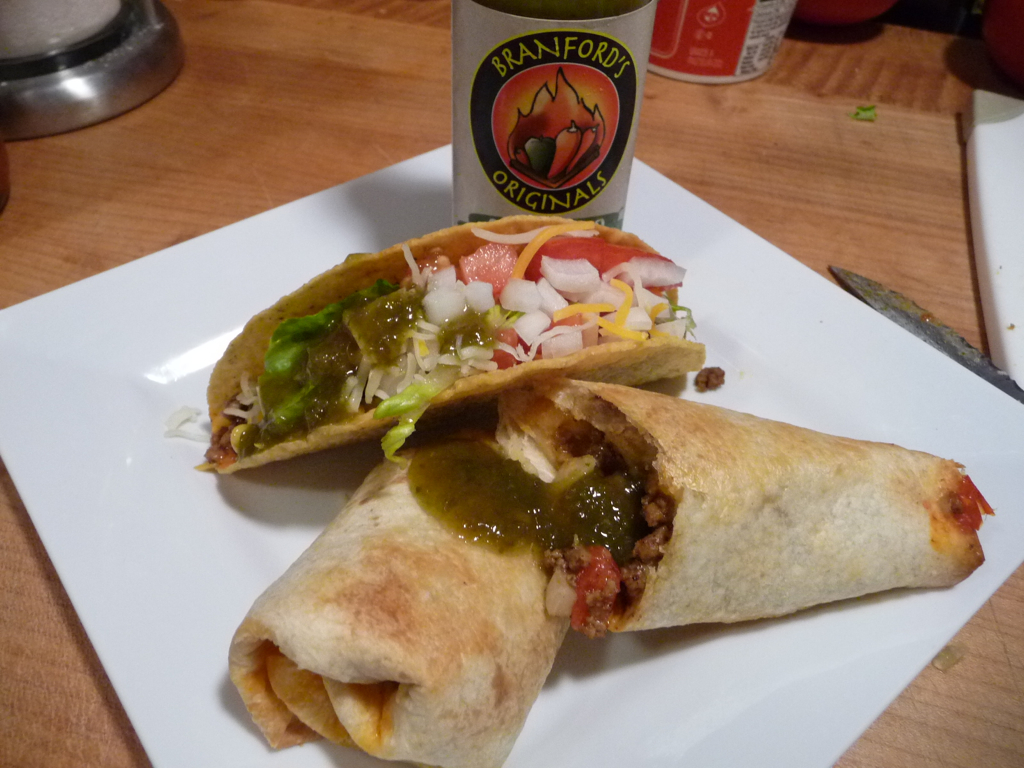 Overall Rating (Taste on Food, Final Thoughts):
– 4/5 stars – Very flavorful with quality ingredients and a nice fresh, bright taste. I tried this sauce on homemade burritos and a few tacos recently and it was delicious. Highly recommended.
About Branford's Originals
BRANFORD'S ORIGINAL'S Hot Sauces and products were created based on my grandmother's hot sauce recipe. I have followed in her footsteps making her sauce while adding my own touch to it! Making this sauce makes me very proud because it's a part of our family tradition. That's what BRANFORD'S ORIGINALS is all about, family tradition and good flavor.
With an extensive lineup of sauces, marinades and rubs, we hope to explore more of the Branford's Originals products in the future.
Where to order Branford's Originals:
Shop for Branford's Originals on their website here.
Follow Branford's on Facebook.
Branford's Originals on Twitter.