Black and Blue Crab Deviled Eggs Recipe
Deviled eggs with crab meat, blue cheese and blackening seasoning makes for some intense and savory deviled eggs!
Recipe for Black and Blue Crab Deviled Eggs is easy to make
Marilyn announced it was time to make some deviled eggs and it was my turn. Great! But I was tired of my usual "classic" deviled egg recipe.
We differ greatly in what we think are classic deviled eggs – mine are heavy with yellow mustard (and I add even more mustard flavor by using Coleman's dry mustard too) along with some sweet pickle relish and garnished with either sweet or hot paprika.
Marilyn prefers more mayonnaise and vinegar and sugar in hers. Well, we grew up in different parts of the country.
So I thought of crab deviled eggs (we've had them quite often and love them), but I put a twist on them.
Playing on the idea from a local pub that features fantastic black and blue burgers, and the fact that I've made a few blackened crab cakes in my day… voilà! Just add deviled eggs! (And omit the burger.)
Old Bay Seasonings has a huge family of spices.
Yup, that is actually a pic from our spice cabinet collection.
Being from Maryland, we're sort of born with Old Bay in our veins. For this recipe I'm working with their own Old Bay with Blackened Seasoning for these eggs.
Recipe: How to make black and blue crab deviled eggs
Makes 12 servings (double recipe for a dozen eggs)
Ingredients:
6 hard boiled eggs, halved
1/4 c. mayonnaise
1 T. Dijon Mustard
1 t. Apple Cider Vinegar
1 t. dry mustard (Colemans)
1/2 t. juice of fresh lemon
1/2 t. Worcestershire Sauce
2 T. blue cheese, crumbled, plus additional for garnish
1 t. Old Bay Blackened Seasoning (or your favorite blackening seasoning)
3 – 4 oz crab meat (fresh is best, or good quality canned will work)
Preparation:
1. halve the eggs, remove yolks to a large mixing bowl
2. add and combine all ingredients except crab meat in bowl (taste as you go)
3. gently combine crab meat into mixture
4. spoon mixture into egg halves
5. garnish with extra blue cheese crumbles and sprinkle with blackened seasoning
6. chill for 20 – 30 minutes to allow flavors to develop, serve cold with beer
Notes:
* go easy on the liquids as they will make the filling too thin
* piping the mixture into the eggs is not an option – the chunky crab meat will not work
* use a large spoon to fill and smooth over the filling covering the entire top of the egg half
* these flavors are intense – serve along hearty foods like steaks and burgers
* you'll have leftover filling – it's great spread on your favorite crackers
You can View or Download a Printable PDF of this recipe here:
Black and Blue Crab Deviled Eggs Recipe PDF File
Please Pin this image if you're into the Pinterest thing!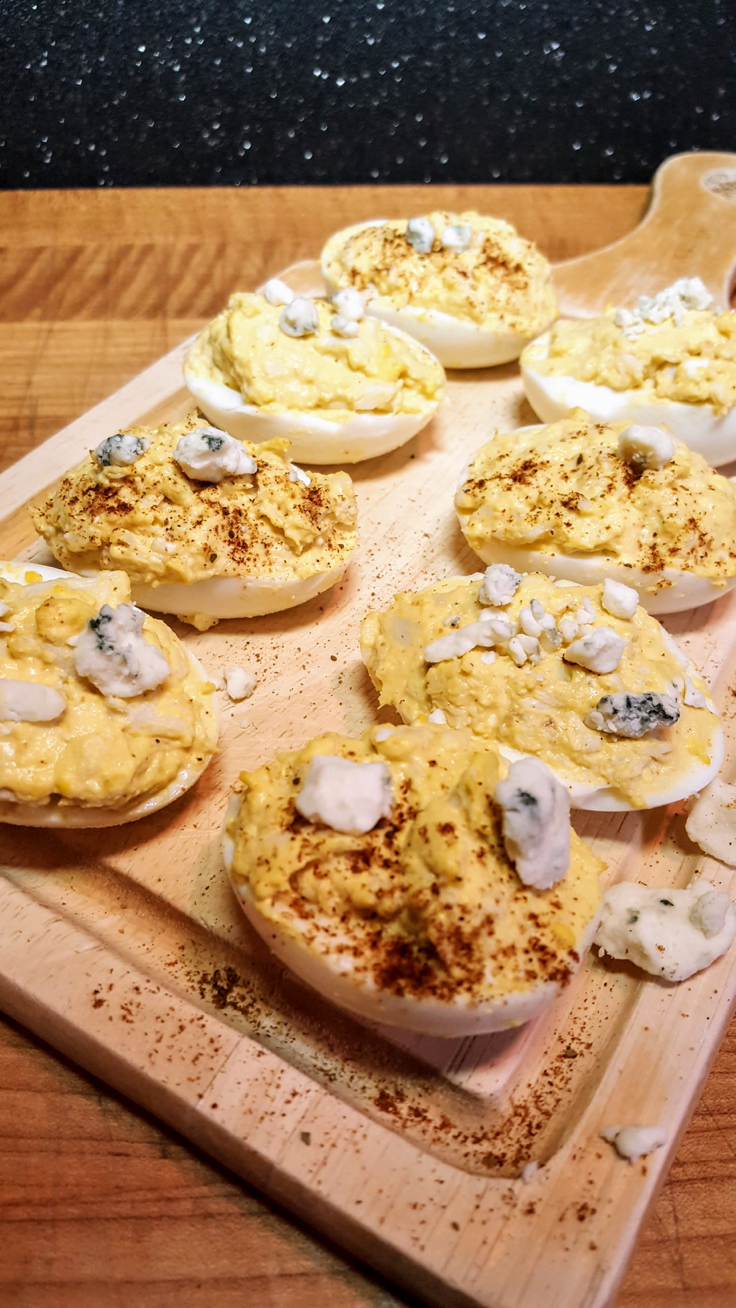 Let us know in the comments below if you try this recipe!
Thanks for reading!