Top products reviewed in 2015
We picked out 8 of our favorite products from our 2015 reviews.
In alphabetical order they are:
Geddes Farms Ghost Pepper Honey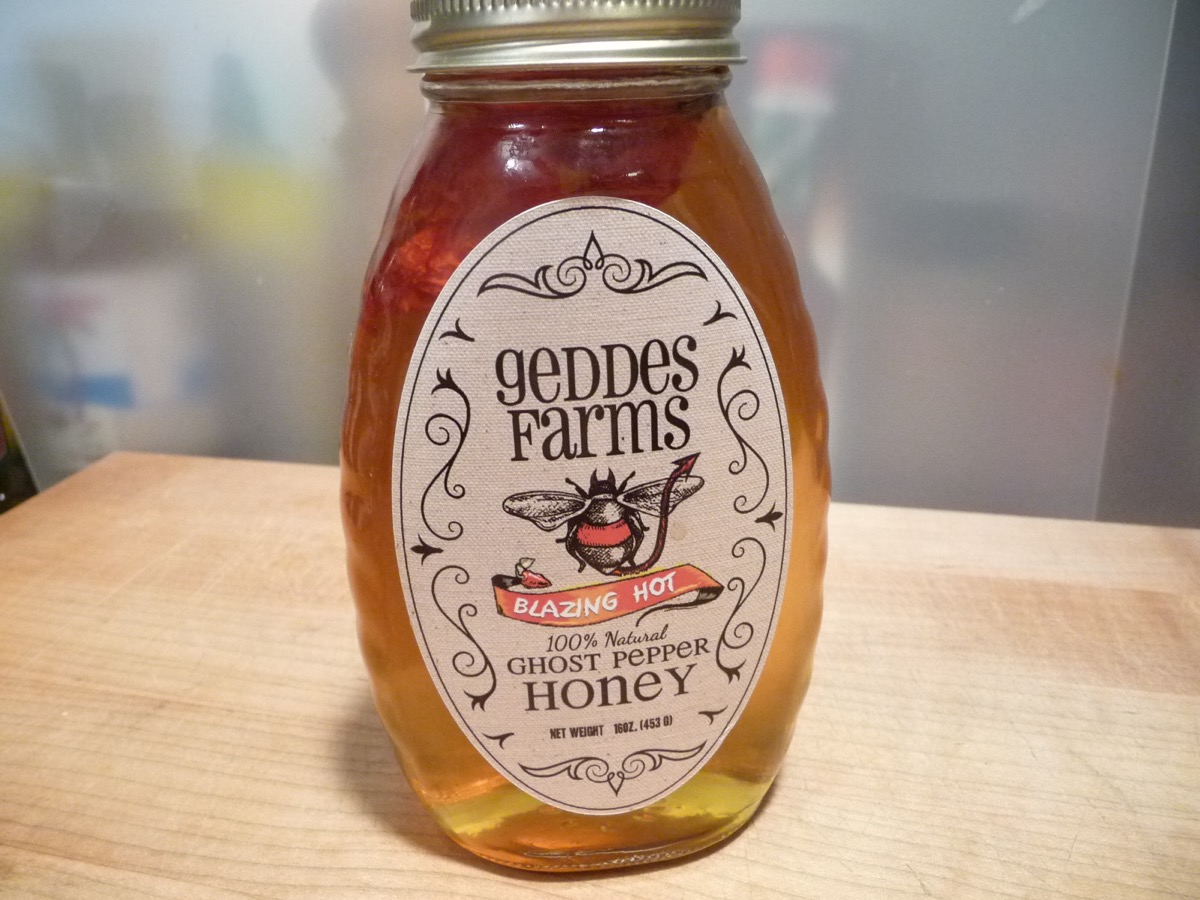 Served up in a classic honey jar, this 16 ounce bottle of liquid gold combines the purest honey with the fiery heat of the Ghost Pepper.
Island Sauce Datil Pepper Sauce
We love the Datil Pepper sauce profile, and Island Sauce Company's version is packed full of the Datil pepper flavor. It's also very unique in that it's a very thin sauce – almost like a glaze.
We kicked off our 6th Annual Week of Wings series with the Louisiana Brand Wing Kit – featuring Louisiana Brand Chicken Wing Seasoning and Louisiana Brand Original Wing Sauce. From our Week of Wings 6 – Day 1
Lucky Dog Hot Sauce Brown Label
Lucky Dog Hot Sauce's newest offering called Brown Label also has the amusingly long name of "Ridiculously Tasty Mustard Chipotle Hot Sauce".
It turns out that this sauce is amazing. Amazingly delicious that is. Yes, it's heavy on the oil content, but that is what makes it so unique for a hot sauce.
Made with a blend of natural ingredients like apple cider vinegar, cumin and cocoa powder, and coupled with the famous Bhut Jolokia Pepper (Ghost Pepper), Moe Mountain Hot Sauce brings its own unique flavor to the hot sauce world.
Sweet & Spicy Alaskan Umami Sauce
Sweet & Spicy Alaskan Umami Sauce is a super thick and sticky sweet sauce. One of the most unusual sauces we've had lately, it doesn't just pour out of the bottle – you need a knife or spoon to ladle it out.
Two or 3 spoonfuls and 4 tacos later, I was wowed. This is a delicious sauce …
Bonus Links! Two more very unique products from 2015!
The Vortex indirect Grilling ring
Designed for use in any Kettle or Kamado style grill, the Vortex makes grilling super crispy wings easy.
FuegoBox Hot Sauce of the Month Club
FuegoBox.co is a premier "Hot Sauce of the Month" service. Each box is filled with gourmet hot sauces.
Our Favorite Crab Cake Recipe
Finally, we must share our favorite crab cake recipe – the slider version:
"…serve them as a dozen sliders with a full sleeve of Saltine crackers – along with a bottle of hot sauce and a roll of paper towels."
Be sure to check out our favorites from previous years:
http://hotsaucedaily.com/top-5-spicy-products-2014/
http://hotsaucedaily.com/favorite-products-of-2013/
http://hotsaucedaily.com/our-favorite-products-of-2012/
Thanks for reading!